Shannon's Clothing Drive Tips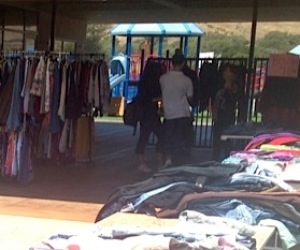 Who doesn't love a good deal on clothing & accessories? Everyone has a closet full of perfectly good clothes that they have either outgrown or are just tired of wearing... How about RESPONDING by using your old clothing to raise some cash for FACT Alliance while providing an opportunity for education on the issue of sexual slavery?


Below you'll find information that made our event succesful and can help you run your own event.




1. Select a date and place to host your clothing drive. It can be hosted in your home, school, office or church. All you need is a big enough space to display your wares neatly and in a way that will entice shoppers to want to look.

2. Select a date & place that all gently used clothing & accessories can be dropped off prior to the event date. This will allow you time to sort through it all and create the best plan for display before your sale. If you are limited on space, you may want to make the clothing drive specific to your shoppers, such as "women's clothing & accessories only" or "children's clothing only".

3. Spread the word about your clothing drive through:
- Free sources like Craigslist
- Social Media
- Flyers in the community
Be sure to include the cause of child trafficking by adding statistics and letting people know the funds will go towards victim aftercare. Invite everyone to send donations of clothing or money even if they are unable to attend the event.

4. Before the event, sort all clothing in a matter that makes sense for your space & crowd. If people are overwhelmed by chaos, they are less likely to "shop". Hanging clothing racks are very helpful for creating an inviting display. Some clothing retailers may be willing to loan you hanging racks for your event. Many retailers are willing to donate or loan hangers for the cause. You may want to consider steaming/ironing items that don't display well otherwise.

5. Pricing ahead of time will make the event much more organized and allow you to be able to enjoy & have time to educate your guests.

Pricing Tips:

- Make signs ahead of time that clearly state prices. Ex: dresses $10, short sleeves $5, pants $5.

-There will be some items far more or less valuable than this general pricing. Those are the items that you may want to put in the dollar section or boutique section.

- In order to distinguish between the more or less expensive items, you may consider either tagging those items or hanging them on a different type of hanger. For example, dollar items get folded instead of hung, and boutique items are hung on felt/non-slip hangers as opposed to plastic or metal.

6. Provide a place for guests to be able to try-on merchandise and be sure to have plenty of full length mirrors.

7. At the event, be sure to have a place where shoppers can pay. It is wise to have more signage in that location reminding you as well as the shopper of the set pricing.

8. It is nice to provide every guest with take home information about the cause they are supporting. FACT Alliance will provide you with brochures that will give your guests information on the issue and on how they too can make a difference in the lives of these victims.

9. Upon completion of your sale, you may consider contacting an organization that would be able to use your leftover inventory for a purpose such as this.

10. Consider offering shoppers Free trade snacks and coffee - either for free or for a small charge. It's one more way to educate your shoppers.



- If you expect a large crowd, provide several different displays/racks for "customers" to shop.

- Make sure to allow wide enough isles and walkways so guests don't become frustrated.

- If hanging space is a minimum, neatly fold items like jeans, t-shirts & sweaters on tables or shelves.

- Group like items together. Ex; short sleeve shirts, long sleeve shirts, dresses, pants, jeans, etc.

- Expect to receive donations of very different values... It is fun to have a "dollar table" as well as a "boutique section".

- Be prepared to give change.

- Have a money box of some sort that makes it easy for you to sort bills by denomination. This will allow for quicker transactions.

- Have a calculator handy.